In Florence it is possibile to do
touristic tours on the Arno river
where you can admire the artistic and natural beauties of the cities from the point of view of the river. These excursions are possible thanks to the work of a group of people who some years ago have joined their forces to create an association with the purpose of recover the
secular tradition of Florence
: that is the profession of the "
renaiolo
". 
The boats, used to organize the tours on the river Arno, are exactly the old boats (barchetti) that were used from "renaioli" in the florentine past.
From the birth of the florentine monuments until about ten years ago, crowd of "renaioli" crossed the Arno river more times a day, to take materials from its bottom, useful to built the walls and the building that are today the most admired in the world. 
From dawn to dusk men, more or less young, ploughed the silver river waters on boats of various kind, barchetti and little boats, that steered without oars, only thanks to the push that the renaioli exerted on the bottom of the river with long-reaching sweep-oars made of wood. 
The "Renaioli" became important figures for the river and for Florence. They were vital for the architecture and typical for the life of the city that has always been destination for merchants, politicians, artists and travellers. Those mighty men, bare-back with large brim hats, sailed up and down the Arno river attracting attention of many people and they often were protagonist of important deeds. In fact they often acted as bathing-attendant of the river, and they were ever ready when imprudent bathers got into trouble. Their boats were also very important in case of floods.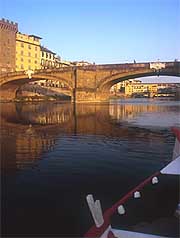 For centuries their work was very precious, handed down from father to son,a very hard work but it allowed them to work every day because Florence needed the materials that the river offered. 
Boating on the Arno river, parading in front of the famous monuments, on the waters of the river that has given life to
Florence
. Seeing the beauties of Florence without noises, only accompanied from the rustling of the boat on the water.
You will pass in front of the
Uffizi gallery
, the beautiful caretaker of an artistic treasure rich of history, and in front of the mysterious
Vasari Corridor
, passing under
Ponte Vecchio
. On this bridge, thanks to Lorenzo il Magnifico, you will find all that is the best in the Florentine goldsmithery tradition.
You will skimm the apse of the
Church of Saint Jacopo
, that nearly stand on the waters of the Arno river, you will pass under the tormented bridge of
Santa Trinita
, reconstructed five times, that is the symbol of the force and the rebirth of the city, and finally you will be enchanted by the elegant grandeur of
Palazzo Corsini
. You will see the heart of Florence, its origin, on board of the traditional boats steered by your "
Renaiolo
" with long-reaching sweep-oars.